Hey y'all! We are starting off this COLD weekend with our favorite soup recipe. Couldn't be a better time, right?! Well, unless you live where it's warm, and if so, I don't want hear it! HA!
One of my husband's favorite soups is Olive Garden's Zuppa Toscana. So, for his birthday this year, I found a copycat recipe here.
There were several versions online, but I really liked this blog. She gave step by step instructions with wonderful pictures. Here are the ingredients you will need:
1 lb Italian Sausage (spicy if you prefer more heat)
5-7 slices of bacon
5 medium russet potatoes
2 c kale, chopped
1 c heavy whipping cream
1 qt water
2 cans of chicken broth
1/2 large onion
2-3 cloves of garlic, minced
2 tsp red pepper flakes (optional)
Salt and pepper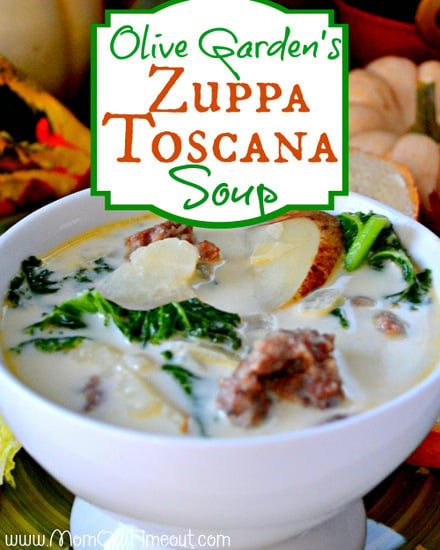 For cooking instructions, please click on her link above.
Here are the Friday topics for the next few months at Kelly's Korner: I have a * next to the topics I'll discuss. Be sure to link up to your favorites too!
*January 18 - Favorite Soup recipes
*February 8 - DIY projects
*February 15 - Organization tips/ideas
*February 22 - Fav kid/family picture ideas
*March 1 - A day in the life
March 8 - Show us your grandkids/nieces/nephews
*March 15 - Favorite Vacation spots
*March 22 - Favorite Pinterest Ideas
*March 29 - Date Ideas
*April 5 - Favorite Kid books
*April 12 - Best workout/health tips
*April 19 - Favorite crafts for kids
April 26 - College girls/early 20's connection day
May 11 - Tips for Finding Jobs
May 18 - Kid clothing swap day
May 25 - Show us what you make/sell
Thanks so much for visiting! I hope you have a great weekend!